Bark U has been life changing for our family and for our first puppy. He has now completed both the Puppy Socialization program and Undergrad program. We saw positive results in just a few weeks of starting the puppy program. He is more comfortable and better behaved around dogs of all sizes. Now, he is all around better behaved and responds quickly to commands which makes life easier at home, on walks and at the dog park.
The staff at Bark U is so welcoming, caring and helpful. Our puppy absolutely loves going to Bark U! He runs right up to the door every time!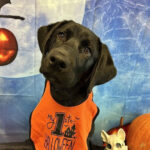 Kim L.
I can't say enough wonderful things about Bark U. My Chloe always looks extra pretty after a grooming session with Laura. And the hair cuts grow out well too. Chloe gets a lot of compliments, and people ask me where I take her for grooming all the time!
Chloe also went through their puppy socialization and undergrad training programs last year with Alicia and Corey – they are awesome. And I continue to use their day care and boarding services. I don't know who loves this place more – me or Chloe. She leaps out of the car with excitement, and is jumping for joy when we arrive. My only complaint is that she never wants to leave this magical place… and I try not to take it personally, haha. Christine and the entire staff are so knowledgeable, and you can see that they truly love every single pup that walks through the door. I trust them completely with my baby girl. I highly recommend all of their services!
Lori S
My dog has been going to barku for over a year now and I couldn't be more pleased. The staff are all very kind and my pup always comes back really happy. They are efficient with check in and check out. They also post really cool pictures of my dog when he's there on vacation or day care. Special events as well! it really is a great place, they take care in your dogs safety and health while on the premises as well. And in general reasonably priced. I highly recommend.
Leticia A.
Wonderful experience all around. Our two mini Bernedoodles cannot wait to get out of the car the minute we arrive in the mornings. Once we get them home they are exhausted from playing all day. The staff is very friendly and attentive. They make sure that all of our concerns are always addressed. We've been using them for daycare three days a week for 10 months now, we had our youngest complete the puppy socialization skills program and recently used the boarding service for our two mini Bernedoodles plus our daughter's Bernadoodle. Highly recommend!
Marlene K.
Bark U is AMAZING!! My dog loses her mind when the van comes to take her to 'school'. She just absolutely loves being there and playing with the other dogs and staff. To top things off, they do an excellent job grooming her. Highly highly highly recommend!!
Kelly P