When you're going on a vacation and choosing a facility for your pup, it's easy to get bogged down in all the acronyms. There are so many types of accreditations and certifications for dog care businesses; how can you know which one actually means that your pet will be well taken care of? Every website you visit has medals and medallions lined up along the bottom, but what do they mean? So, to help you in your search for the right home away from home for your pet, we thought we would break down a couple of our own mysterious medallions, and explain why they were important to us to earn.
Heroes for Healthy Pets
Heroes for Healthy Pets is an infectious disease management certification utilized by veterinarians and pet care facilities nationwide. This certification provides proof that our staff has been educated and passed rigorous testing in operating a clean facility and preventing communicable diseases from spreading. Heroes for Healthy Pets multi-part test covers many lessons including: identifying the clinical signs of illness, managing outbreaks in group environments, and the best practices for sanitation and prevention of infectious diseases. Basically, it means we know how to keep our facility clean and germ-free! We have earned the Facility Certification- which is the highest Hero for Healthy Pets credential!
AKC S.A.F.E.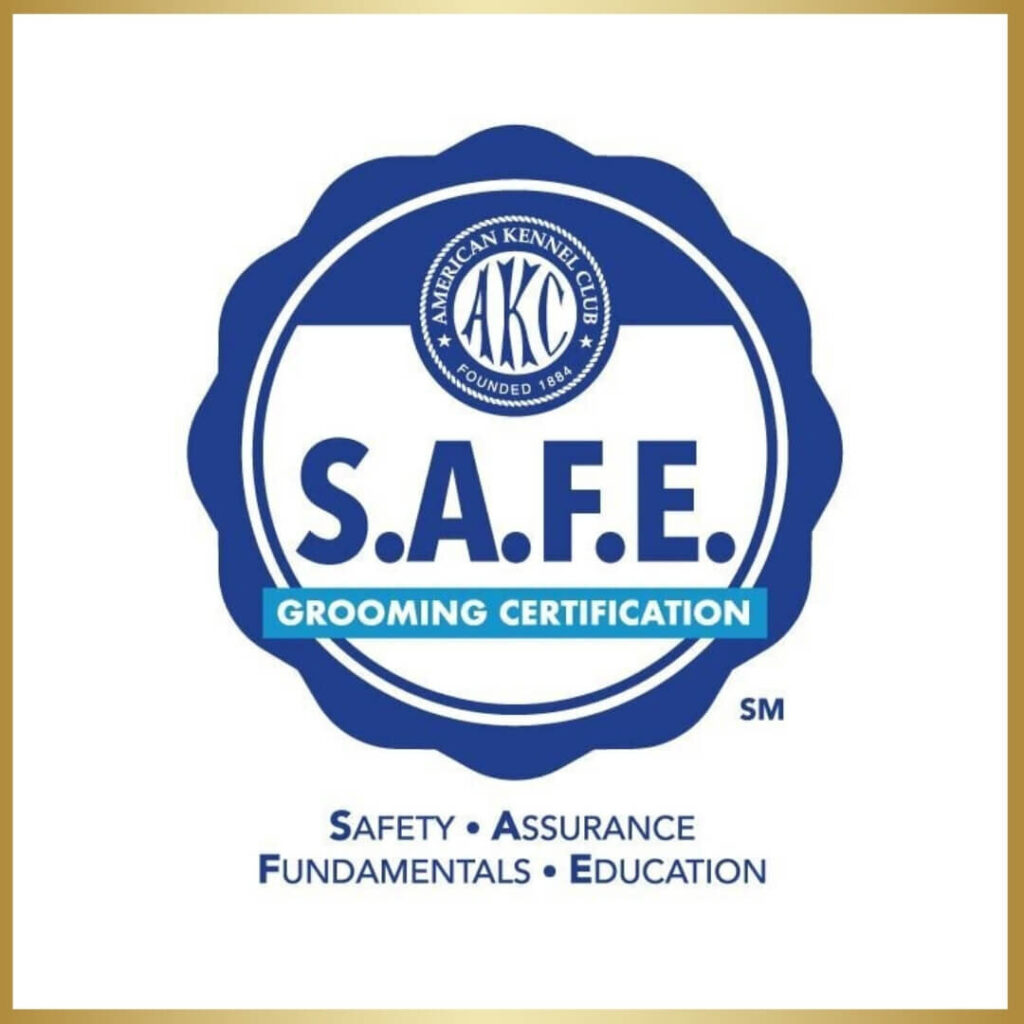 If you're looking for a groomer or salon who will handle your pup gently and without stress, AKC S.A.F.E. is the mystery medallion for you. AKC S.A.F.E is a three-part extensive class that, to start, goes over best practices for your pet's health and safety, best techniques for ensuring pet safety while grooming, how to handle special cases, as well as accident avoidance, sanitation, and stress-free handling techniques. This certification assures you that your dog will not only come home looking fresh and clean, but will also have as relaxing, safe, and enjoyable experience as possible. In addition to each of our stylists being AKC S.A.F.E Certified, we further demonstrate our grooming experience and pledge to safety by also having our grooming salon certified. This certificate means that we have been inspected and have satisfied all of the requirements needed for certification,
We hope that learning a bit more about these two certifications can help narrow down your search for the right place to care for your pup!
If you're interested in having your dog enroll in Bark U – Register here and request a temperament assessment. To learn more about our other services, visit us online or call us at 215-486-2200 today!